VUA General Meeting 2019
VUA General Meeting 2019, September 18-20, University of Veterinary Medicine and Pharmacy in Košice
The meeting organized at the University of Veterinary Medicine and Pharmacy in Košice, Slovakia was attended by almost 40 representatives of VUA member universities and institutions.
General Meeting was opened by Prof. Jana Mojžišová, Rector of UVLF and VUA President Prof. Peter Bielik
President Bielik evaluated the association activities and introduced the plans of Visegrad University Association for the upcoming period. General Meeting approved the VUA Annual Report as well the Proposal of activities for 2020. During 2019, new universities applied for VUA membership. One of them were approved by the General Meeting and we would like to congratulate and welcome Kaposvar University, Hungary.
New Vice-presidents and Executive Committee members were elected for the four year term.
VUA Vice-presidents:
Prof. Dr. László Palkovics, Rector of Szent István University, Hungary
Prof. dr. hab. inż. Włodzimierz Sady, Rector of University of Agriculture in Krakow, Poland
Prof. Dr. Alexander Vladimirovich Turyanskiy, Rector of Belgorod State Agricultural University named after V.Gorin, Russian Federation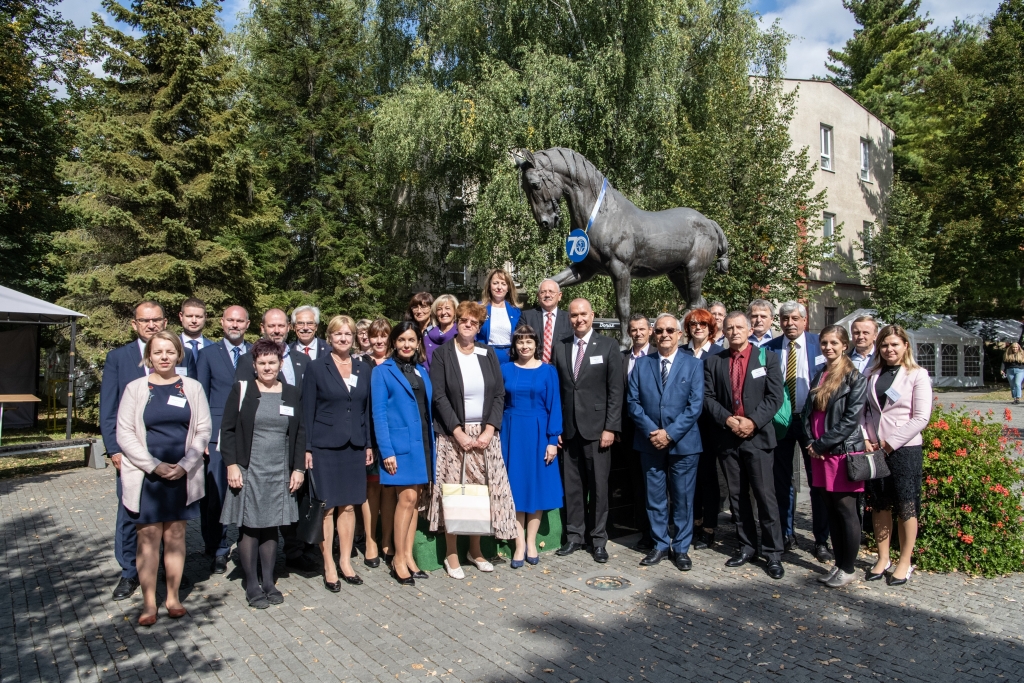 VUA Executive Committee members:
Dr. Oleksandr Bonkovskyy, Head of International Department, Bila Tserkva National Agrarian University, Ukraine
Prof. MVDr., Ph.D. Vladimír Celer, ViceRector of University of Veterinary and Pharmaceutical Sciences Brno, Czech Republic
Prof., Ph.D. Zoran Grgić, Dean of the Faculty of Agriculture, University of Zagreb, Croatia
Dr. Ivana Tregenza, Associate Director, LSU AgCenter Global Network, Louisiana State University, USA
Traditionally, VUA AWARD OF EXCELLENCE was awarded to a VUA member university based on the results of the election of the General Meeting. The award went to Belgorod State Agricultural University named after V.Gorin, Russia as the appreciation of active participation in VUA activities, especially annually organization of the VUA Summer School. The award was presented by Prof. Peter Bielik and Proff. Juraj Pistl, UVLF Vice-rector.
As a part of the official programme, below presentations of leading experts were given:
Martin Tomko, DVM, PhD.: The University of Veterinary Medicine and Pharmacy - life within and beyond the university campus
Assoc. Prof. Alica Kočišová, DVM, PhD.: The world is changing - the impact of global change on the spread of parasitoses
Assoc. Prof. Branislav Peťko, DVM, PhD.: Interdisciplinary Research for Innovation of the Center for Applied Research
VUA Presidency would like to thank the University of Veterinary Medicine and Pharmacy in Košice for a perfect organization of the event and all the participants of the General Meeting for their fruitful contribution.