General Meeting of Visegrad University Association 2017 took place at Russian State Agrarian University - Moscow Timiryazev Agricultural Academy (RSAU-MTAA), Russia on September 13-15.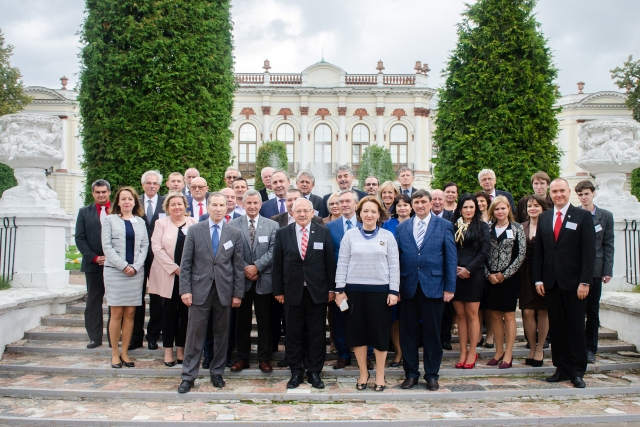 The meeting was attended by more than 40 representatives of 20 VUA member universities coming from 10 countries.
General Meeting was opened by Dr. Galina Zolina, Rector of RSAU-MTAA and VUA President, Prof. Peter Bielik. President Bielik evaluated the association activities and introduced the plans of Visegrad University Association for the upcoming period. General Meeting approved the VUA Annual Report as well the Proposal of activities for 2018. During 2017, new universities applied for VUA membership. Three of them were approved by the General Meeting and we would like to congratulate and welcome them to our association:
Eszterházy Károly University, Hungary
University of Debrecen, Hungary
Kyiv Cooperative Institute of Business and Law, Ukraine
Traditionally, VUA AWARD OF EXCELLENCE was awarded to the most active member university based on the results of the election of the General Meeting. The award went to Louisiana State University, USA as the appreciation of active participation in VUA activities. The award was presented by Prof. Peter Bielik and Dr. Galina Zolina to Prof. John Russin.
Presentations of invited speakers provided the GM participants with valuable information on selected topics. Head of Department of Agroeconomics of the Moscow State University of M.V. Lomonosov Prof. Sergei Kiselev focused his speech on the impact of the climate change and food embargo on agricultural development in Russia and Europe. He pointed out possibilities to ensure Russia's food security in climate change conditions up to 2050.
Security expert Alexander Golikov talked about potential risks of GMO production. He stressed that the issue of increasing safety is directly linked to rapidly evolving technologies.
Sergei Groshev, Head of agribusiness projects at Singenta, focused on issues of mutual partnership between the state and private sector in agricultural education. He talked about the experience of training agricultural experts in agrotechnology and suggested creating a community that would help to create similar training centers.
VUA Presidency would like to thank Russian State Agrarian University-Moscow Timiryazev Agricultural Academy for a perfect organization of the event and all the participants of the General Meeting for their fruitful contribution.